Noah + Tabatha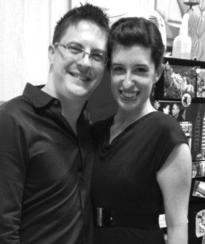 In October 2014, Noah and Tabatha began renovationing a 53' semi trailer with the goal of turning it into a tiny home. Here each stage of the process will be documented. Read more about the process of purchasing the trailer here and here. In May 2016 they will be moving to Lovare Homestead, a tiny house community in Ohio.
About:
Noah works in the IT field but has training in theatre design and lots of experience in home renovations. Tabatha is a freelance graphic designer who is devoted to being a part of every aspect of the tiny home project. Their two dogs, Fritz and Chloe, are project supervisors.
Instagram: @tabatha.mehl
FAQ
Who first came up with the idea?
Definitely Noah. Tabatha took a little convincing. Read more about that here.

Why a tiny home?
We both feel a strong desire to live a more simple lifestyle and the more we talked about our options, the more we knew a tiny home would be right for us. Additionally, our rent was just starting to feel like a waste.  More on that here.

What if you have kids?
We both see kids as a possiblity in 5-10 years and know that we could make simple edits to the tiny home to accomidate a child or two. 

Where will the trailer live?
We currently have the trailer on borrowed land while we do renovations. Eventually we will purchase land of our own to park the trailer. Or, we may live in different places for short periods of time, traveling often. 

How will you move the trailer?
The trailer was originally delivered by the seller. We do not own a cab for the trailer, for now we would hire a private driver or service to move it to a new location. It's possible that some day we will purchase a cab.

 

Why not a reefer?

Our opinion can be viewed

here

.

Info on the jacks we're using:
Details and links to what we purcahsed can be viewed here.

What was the process like to install the doors and windows?
A full list of the process can be viewed here.

Learn about the composting toilet here and here.

If you have any other questions, feel free to contact us.